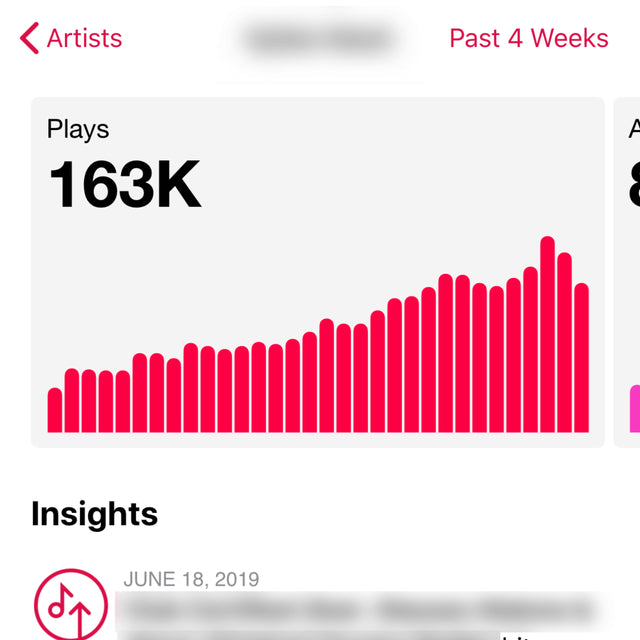 All orders are processed in CHF (Swiss Francs).
While prices may be shown in your local currency, you will checkout using CHF at the latest exchange rate.
Basic - 250.00 CHF
• 4-7 Day Campaign
• Estimated Growth: 1K-3K+ Plays
Standard: - 400.00 CHF
• 7 Day Campaign
• Estimated Growth: 4K-6K+ Plays
Major - 600.00 CHF
• 14 Day Campaign
• Estimated Growth: 10K-20K+ Plays
Hype - 990.00 CHF
• 20 Day Campaign
• Estimated Growth: 30K-50K+ Plays
Superstar - 1,700.00 CHF
• 30 Day Campaign
• Estimated Growth: 70K-80K+ Plays
How does it work?
We run targeted ads on your songs to grow your fanbase and listeners. With this promotion, you are able to choose if you want to push one song, an EP or a whole album.
• Organic Plays
• High Paying Royalties
Campaign starts within 48-72 hours! 
Is there any guarantee?
Yes! We guarantee the lower number of the estimated range.
Will I receive my royalties?
Of course. All Apple Music plays are 100% monetize-able, which means you'll receive your royalties from your distributor. However, we take no liability on that.
What genres do you cover?
We can do all genres! Our team will listen to your track before we process your order, to ensure you get the best results possible.
Do you accept any song regardless of quality?
We do not. Usually when artists are ready to spend on promotion it means they're more serious about their craft. Thus, the song is mixed and mastered. You don't have to spend thousands of dollars in a fancy studio to do this, just make sure the quality is good. A small percentage of the time, we'll refund an order due to engineering quality.
*The estimates of streams are no guarantee and can vary depending on your songs.